HEEHO LEE
Licensed attorney at law

In the movie 'Philadelphia', the lawyer Andrew answers as follows when asked whether he likes the practice of law or not:
"What [do] I love most about the law? It's that every now and again you get to be a part of justice being done. That really is quite a thrill."
Attorneys represent their clients' position and take the lead in expressing it, so that the clients can exercise their rights and protect their interests. The look of joy on clients' faces when they gain recognition of their legitimate rights and successfully uphold their interests is the biggest thrill for a lawyer and the crucial driving force for an attorney.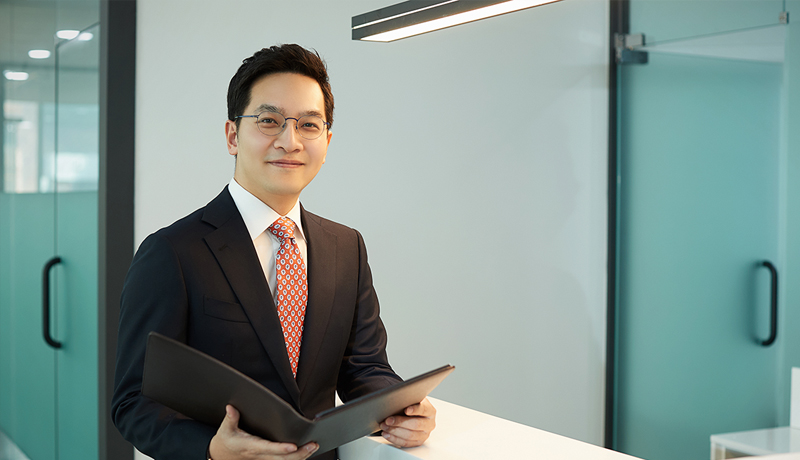 V-CARD
HEEHO LEE
Licensed attorney at law
Education
Seoul National University, College of Law, Sungkyunkwan University, School of Law
Career
Shin & Yoo, Associate
Languages
Korean, English
Cases
Corporate advice on listed companies, MTIE(Ministry of Trade, Industry and Energy, Peace Korea, Sanden Retail System Korea, SBM, Devsisters, Edusol City, Korean Standards Association, Korea South-East Power, Korea Foundation for the Advancement of Science and Creativity
Copyright infringement dispute regarding Sprotech Raching, LLC
Disputes and litigation involving Haeundae Centum Hotel
Corporate advice on Joint venture agreements, licensing
IP disputes involving Awake Plus and Carriesoft
Criminal cases on network medical institutes
Health Care Benefit dispute regarding Keunwoo Medical Incorporated Foundation, Jewelry Cosmetic Surgery, etc
Litigation representing the Korean Agency for Technology and Standards.